2022 Upcoming Events
Sawmill Masters
Monday, May 16th
Top Teams
1st- Jack Allan, Ross McBride, Mike Woodhouse, Ben Julie 56
2nd- Jan Kulakowsky, Phil Mallory, Chuck Knight, Peter VanBeurden 61
5th- Bob Cranfield, Rick Kozarichuk, Mike Arghittu, Fred Stuchberry 65
7th- Steve Parker, Jim Sawatzky, Glen Zdriluk, Russ Fisher 68
10th- Rob Holland, Val Siriani, Bill Barons, Dan Minello 69
16th- Bill Snee, Andrew Sweeney, Wynn Ellis, Irene Heger 72
Course Contests
Closest to the Pin #3: Rich Meeboer
Closest to the Pin #14: Suzie Sexton
Long Drive - Men #10: Mike Woodhouse
Long Drive - Ladies #1: Karen Sabzali
Closest to the Post #7: Rich Meeboer
Closest to the Post #13: Jesse O'Neill
2022 Results
Ryder Cup Qualifier - Sunday, May 1st
Results coming soon.
Senior Ryder Cup Qualifier - Monday, May 2nd
Results coming soon.
Solheim Cup Qualifier - Sunday, May 8th
Results:
1st:Suzie Sexton 94
2nd: Carolan Clague 97
3rd: Lisa Branston 98
T4th: Shelley Bauer & Jackie Barrett 99
2022 Results Below
Get-Acquainted Tournament - Saturday, April 30th
Closest to the Pin:
Men - #3 Joerg Berger, #14 Ben Julie
Ladies - #14 Connie Parker, #17 Mary McLaren
Closest to the Post:
#7 Ryan Kirkpatrick, #13 Don Matheson
Winning Teams:
6th: Daryl Bell, Denise Irwin, Dave Johnson, Cole Thompson 61
9th: Bob Cranfield, Randy Hicks, Debbie Barber, Ben Julie 62
13th: Joe Fisher, Bev Parker, Jim Sawatzky, Sean Billyard 64
18th: Don Matheson, David Downer, Chuck Knight, Mike Erb 66
21st: Gord Love, Jesse O'Neill, Jack Cunninham, Joshua Bertrand 69
1st place (bragging rights only): Bill Jarvie, Dave Ferguson, Toni Lemaich, Ron Wiens 57
*Gift certificates for the winners will be placed on your profile in the computer system asap.
Thank you for playing!
2021 Results below:
Superintendent's Revenge
Men
1st: Mike Woodhouse, Ross McBride, Jack Allan, Will Hooker - 65
2nd: Mike Arghittu, Bob Cranfield, Rick Kozarichuk, Ben Julie - 67
3rd: Brett Scobie, Adam Scobie, Chris Hawkins, Mike Erb - 67
Couples
1st: Sean Lingard, Denise Irwin, Gary Bruce, Karen Bruce - 70
2nd: Joerg Berger, Marianne Berger, John Spackman, Kathy Micucci - 74
3rd: Bruce Atkinson, Patti Atkinson, Bill Jarvie, Catriona Jarvie - 76
Most Honest
Keith Vowles, Sue Vowles, Cathie Commerton, Antonietta Nardulli
Course Contests
Closest to the Pin: #3 - Dan Basset
Closest to the Pin: #8 - Denise Irwin
Closest to the Pin: #14 - John Moss
Closest to the Pin: #17 - John Spackman
Member Par 3 Tournament
Ladies'
1st: Lynne Benson, Denise Carter, Shirley Chiki, Kathy Courage - 54
Men's
1st: John Furnival, Larry Street, Rich Meeboer, AJ Perera - 46
2nd: Phil Mallory, Chuck Knight, Peter VanBeurden, Walt Kulakowsky - 47
Couples
1st: Jim & Leslie Sawatzky, Steve & Connie Parker - 54
2nd: Don Matheson & Mary McLaren, Roger & Dorothy Williams - 55
Course Contests
Closes to the Pin: #2 - Martin Nurmi
Closes to the Pin: #6 -- Mike Arghittu
Closes to the Pin: #13 -- Steve Kopas
Closes to the Pin: #16 -- Rob Holland
2021 Club Championships Results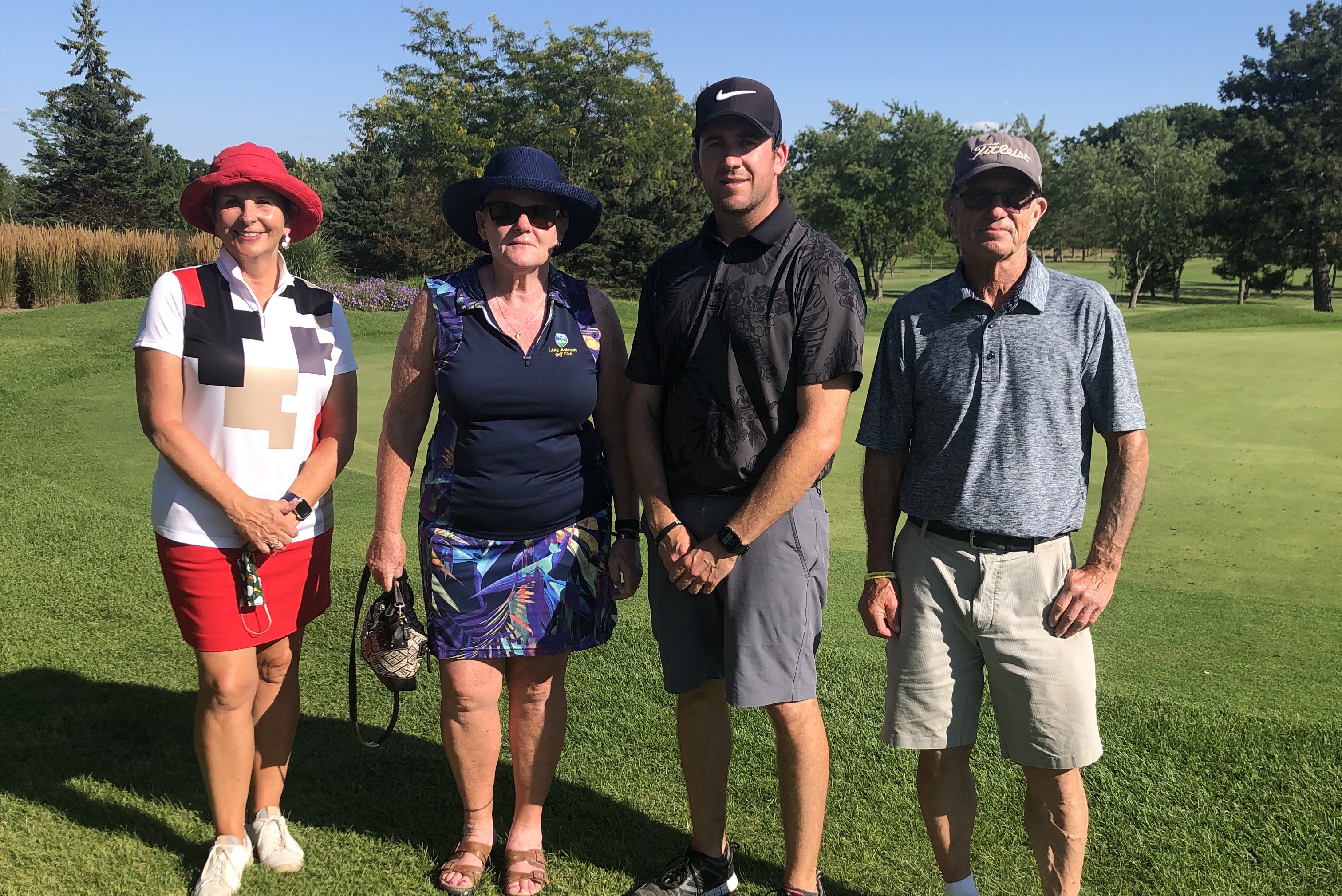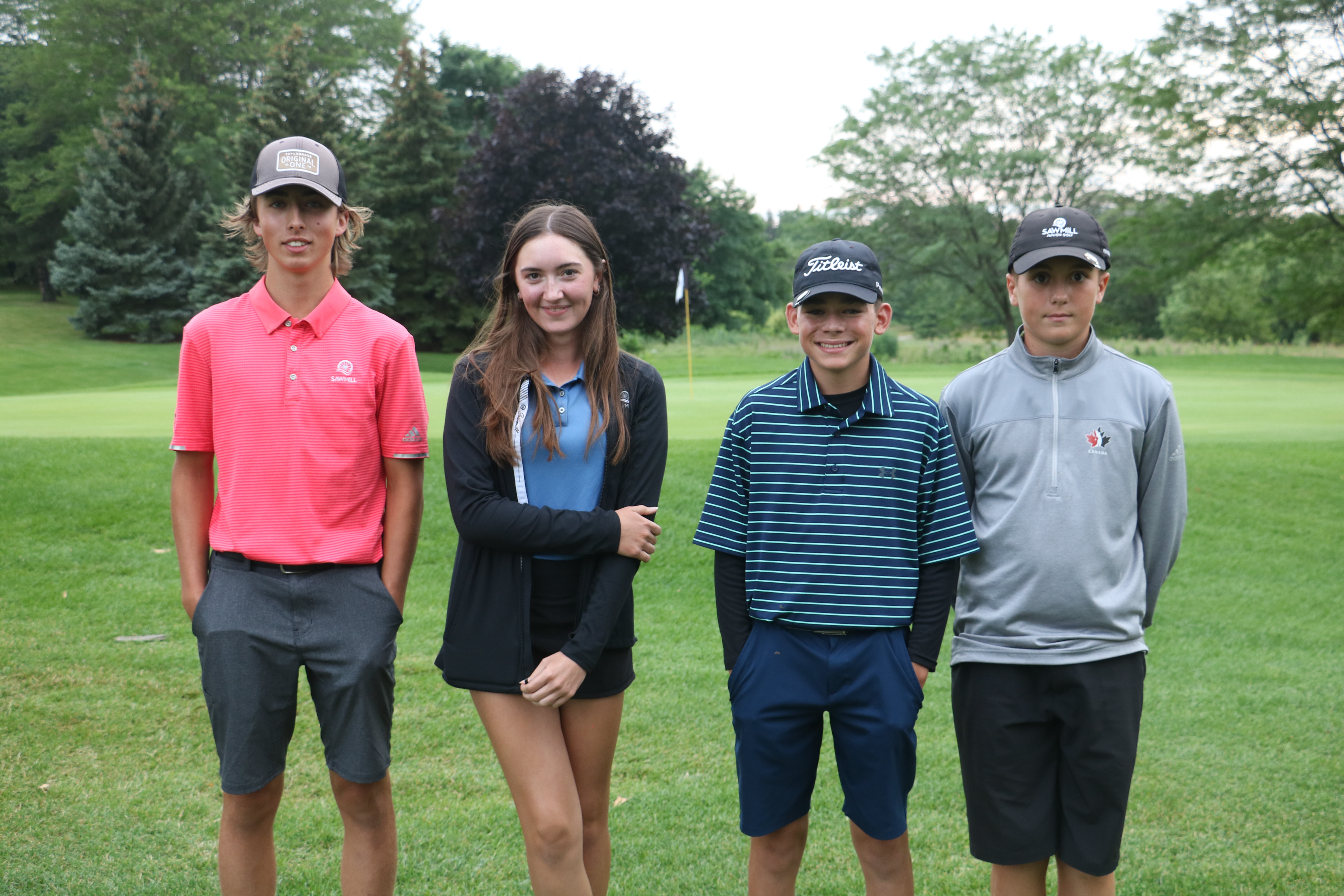 L-R Suzie Sexton (Senior Ladies), Donna Larsen (Ladies), Mike Woodhouse (Mens), Rick Kozaichuk (Senior Mens)
L-R Nathan Freure (Junior Boys), Casey Kenney (Junior Girls), Cole Thompson (Bantam Boys), Matthew Gray (Peewee Boys)
Men's Championship
1st: Mike Woodhouse 219
T2nd: Jack Allan & Bryan Bieksa 229
Men's A Flight
1st: Corey Boudreau 232
2nd: Steve Parker 240
T3rd: Grant Loney & Ben Minor 243
Men's B Flight
1st: Roger Scammel 248
2nd: Steve Stafford 259
3rd: Randy Hicks 260
Men's C Flight
1st Mike Erb 262
2nd Malcolm Lepp 266
3rd Nick LaBrash 268
Men's D Flight
T1st: Blaine Nickason
T1st: Robin Roberts
Senior
1st: Rick Kozarichuk 238
2nd: Lawrence Hutchinson 245
3rd: Ron Wiens 251
Super Senior
1st: Bill Paul 166
2nd: Mike Lessard 172
T3rd: Jan Kulakowsky & Don Conway 174
Super Super Senior
1st: Jim Luffman 170
2nd: Brian Barrett 181
3rd: Hank Saito 184
Ladies' Championship
1st: Donna Larsen 174
2nd: Shelley Bauer 179
Ladies' A Flight
1st: Lisa Morabito 205
2nd: Karen Vine 206
Ladies' B Flight
1st: Tristan Stringer 213
2nd: Arlene Furnival 225
Ladies' Senior
1st: Suzie Sexton 177
2nd: Anne Moss 178
Ladies' Super Senior
1st: Heather Buchanan 186
2nd: Rita Lee 189
U11
1st: Sullivan Forbes 209
U13
1st: Matt Gray 153
2nd: Ben Julie 166
U15
1st: Cole Thompson 167
2nd: Andrew Burciul 174
U17/U19
1st: Nathan Freure 156
2nd: Will Burleigh 162
3rd: Ben Kelly 164
Girls
1st: Casey Kenney
2nd: Sierra Kowalyshyn

Congratulations!!!