Junior League Tee-times for Sunday June 20th (Happy Father's Day)
**Parents - please pay the $6 weekly fee in the Pro Shop BEFORE the round.
*12:03pm Ben J, Vince, Nathan, Ben S
*12:09pm Joseph, Will, Ryan, John
*12:15pm Cole T, Marieve, Sully, Joseph
*12:21pm Trent, Andy, Matt, Aidan
*12:27pm Liam, Anisha, Hudson, Cody
*12:33pm Alivia, Grace, Brighton, Katrina, Meg
*12:39pm Maddy, Claire, Kaycie, Ava, Karson
*12:45pm Kiran, Luca, Landon, Quinn
*12:51pm Katrina, Anna, Tiffany, Livia, Brooke
*12:57pm Graeme, Dylan, Jonah, Jack V
*1:06pm Cole, Andrew, Colin, Carter
*1:12pm Adam, Peter, Jonah, Maximus
Absent: Casey, Sierra, Blake, Leighton, Ben K, Jack M
Sawmill's Junior League is designed for avid junior golfers that are able to competently play 9 holes (or more) and are looking for some friendly competition. The league offers weekly golf in an organized team format to help juniors improve their game and prepare them for competing in local junior events. The team format will promote a low-pressure game where all players will contribute to the team's success regardless of skill level.
2021 LEAGUE INFO:
15 week league
Sundays from May 16th to August 29th (no league on May 23 because of a US Kids Golf event).
Tee times between 12pm and 1:30pm on Sundays.
Approximately 25 - 35 kids participate each week.
The league will be run by Kevin Niznik, PGA of Canada Class A Professional.
Weekly team games (scramble, best ball, etc).
Teams will be drawn to promote building new friendships and learning golf among peers.
Juniors must check in at the Pro Shop by 11:50am prior to playing in the league.
After 9 holes, juniors will be provided with lunch and a drink in the restaurant or at the Gazebo BBQ.
Scorecards need to be turned into Kevin immediately following golf.
There will be a prize-giving at 3:30pm (approximately) each week.
The top teams and course contest winners will receive prizes.
Kevin will organize the groups/tee times, monitor the play on course, provide rules and etiquette information, offer course management advice, do the scoring, and announce the winners.
Year-end 9 Hole Golf Tournament on Sunday, September 5th.
COST: (HST included in all fees)
Weekly Fees: Sawmill Members, PLAY GOLF, or Performance Team players: $6 for prizes and lunch
*The league is full for 2021 with players from the groups listed directly above.
If you have any questions about the Junior League, please email Jeremy
Some of our 2019 players!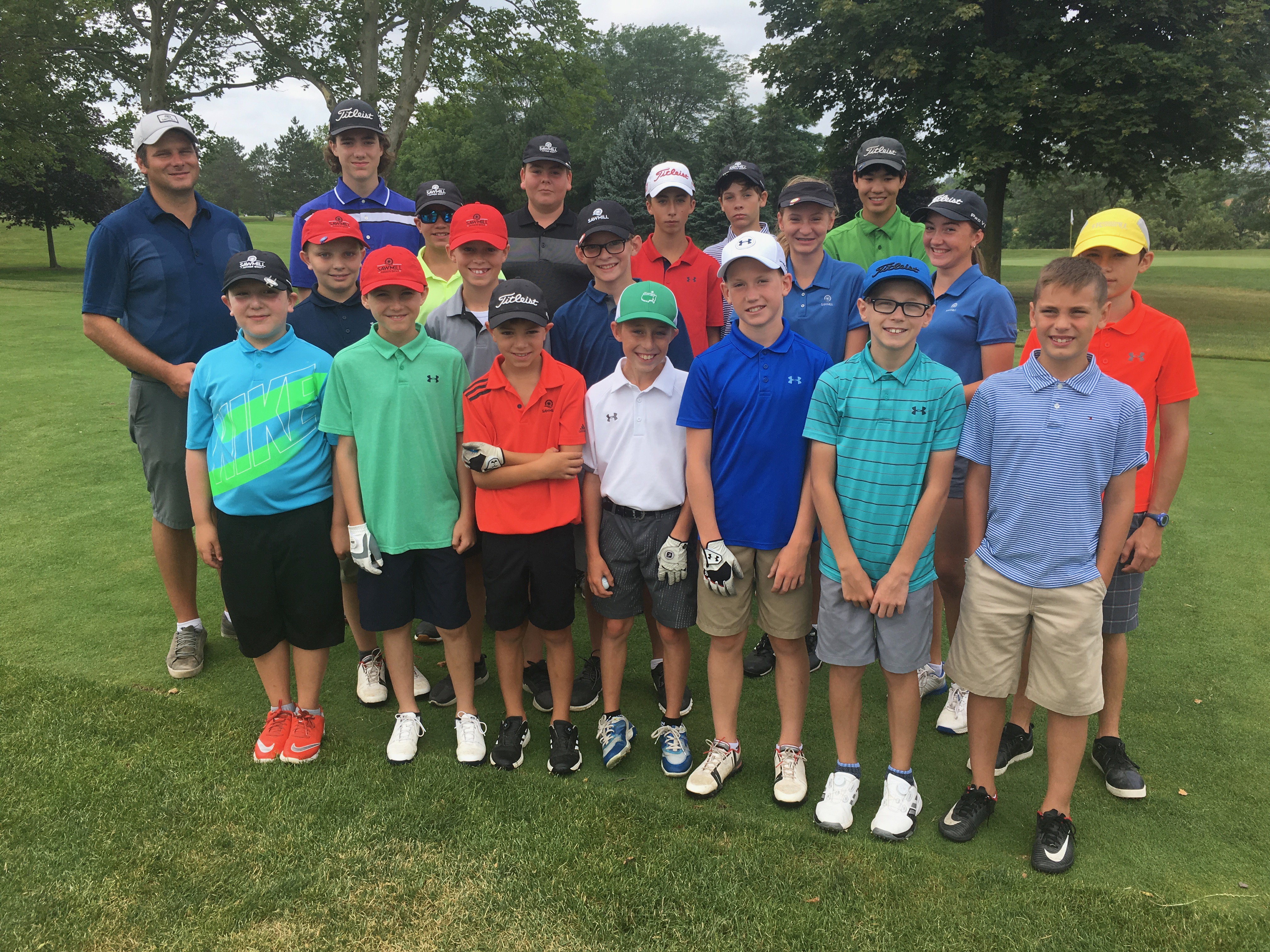 Some of our 2018 players!