Sawmill's Grill 71 is proud to unveil a newly renovated restaurant and bar, making your next visit even more comfortable and relaxing. The restaurant, which is open to the public, is a destination for golfers and the local community. You'll enjoy great food and drinks with excellent views over the course and surrounding gardens.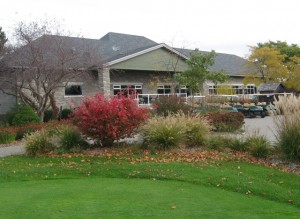 Our 2017 Beverage Menu features 10 selections of draft and 11 wines!!!! Sawmill has a NEW private label beer called "The Sawmill" and is created by Kame & Kettle Brew Works of Fonthill. Our private label Sawmill Red & White Wines are made by Vineland Estates Winery.
May we suggest breakfast at Sawmill? The 2017 Breakfast Menu features our new signature breakfast sandwich on a housemade buttermilk biscuit.
For lunch and dinner we serve everything from traditional clubhouse favourites to our own Sawmill specialties. 2017 Lunch & Dinner Menu
Our famous Friday Night Fish Fry is a weekly event not to be missed!
On a sunny day, sit back and relax on the patio. Grab a bite to eat or sip a cold drink beside the beautiful gardens. You can also enjoy grilled burgers and sausages from The Gazebo BBQ on the weekends.
The dining room and bar can cater to groups of up to 140 people for golf events. Please visit the Tournament page for more information and contact us today to book your outing.
Grill 71 is open daily throughout the golf season, weather permitting. We open for breakfast at 8am Monday to Friday and at 7am on weekends and holidays. Lunch is served daily. The Friday Night Fish Fry begins at 4pm weekly and runs from April to Thanksgiving.
We recommend you make a reservation for groups of 8 or more. Please contact Carrie by phone at 289.213.2555 or by email at carrie@sawmillgolf.com.
The clubhouse and restaurant are closed for the winter. We will reopen when the golf courses opens for the season - usually early April, weather permitting.